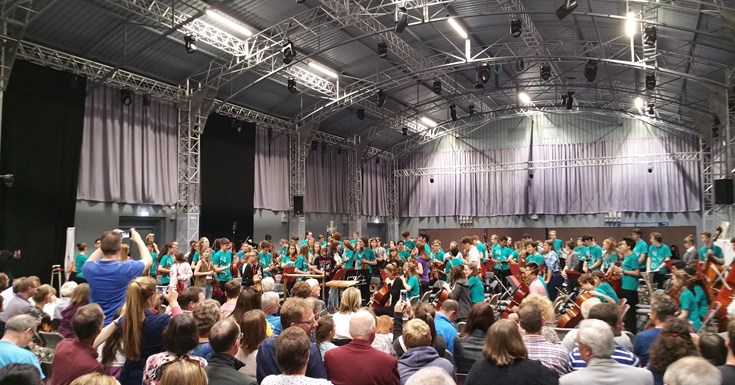 The National Youth Orchestra of Great Britain's 'Inspire' Orchestra completed its ten date tour of the West Midlands at Forest Arts Centre's new A3 Arena.
Over 50 young musicians from Walsall, Wolverhampton, Dudley and Sandwell took part in the event, where the power of peer inspiration offers the highest quality orchestral playing opportunities to those committed teenage musicians who need them most.
These events take our young musicians' orchestral playing to the next level, while working closely alongside NYO Musicians and Tutors.
The session was conducted by Duncan Ward who, with heaps of enthusiasm and good humour, encouraged our players as they joined with the Inspire Orchestra in improvisations and riff based pieces.
The Inspire Orchestra brought the afternoon to a close with a performance of the music from 'La Strada' (Nina Rota) which showed off the acoustics of the new performance space (compared very favourably with The Symphony Hall in Birmingham).
This was the first time the NYO had visited Walsall, and already next year's event is being planned – even bigger and better!
A huge Well Done! to all those who took part.
General information www.nyo.org.uk/inspire
Duncan Ward www.askonasholt.co.uk/artist/conductors/duncan-ward