Welcome to the WMEHS Webpage for Project Jazz! 
At the Walsall Music Hub we're very proud to have a very successful Jazz Department, which features two excellent youth Big Bands (New Generation Jazz, and Jazz @6) , our very own Walsall Music Hub Jazz Combo, and we run a weekly Jazz Improvisation Class too.  The bands are all made up of our very talented local young musicians, who attend schools in the Walsall borough, and are led by our specialist Jazz staff, Paul Bennett, Helen Miller & Nick Dewhurst.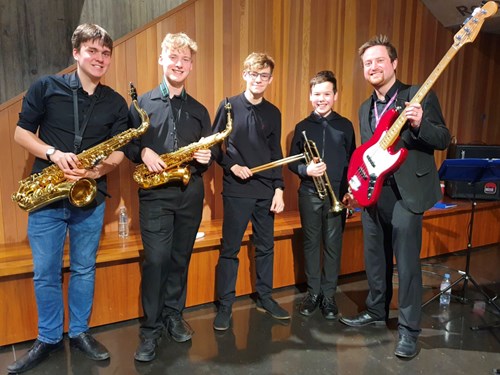 The Walsall Music Hub Jazz Combo 21/22
In December our brand new 21/22 Jazz Combo made it's first outing, as the band entertained guests and attendees at the Walsall Cultural Educational Partnership 'Christmas Tea Party'! In January, the combo are visiting the University of Wolverhampton for a jam session with students from the University, and later in the year the combo will be visiting the University again to do a joint evening concert, so stay tuned for more information on that soon!
In the meantime though, why not enjoy some of the recordings that our Jazz Combo did last year during the lockdown period? 
For all Project Jazz enquires, please email Nick Dewhurst
Breaking the Circuit This is one of Mr Dewhurst's own tunes, and features our Walsall Music Hub Jazz Combo Young Musicians, plus a very special guest appearance from the Walsall Jazz Orchestra's Guitarist, Rik Sandford. 
Follow the Fox Another one of Mr D's tunes, this time featuring our Jazz Combo, plus two special guests, Sam Craig on Tenor Saxophone, and Paul Robinson on Electric Bass. 
Heatwave Here's another funky original tune from Mr D, and was arranged for our very own 'Walsall Lockdown Bigband'! The track features students from our own bands 'New Generation Jazz' as well as 'Jazz at 6', but also includes members from school jazz bands across Walsall including 'QM Jazz Big Band' and 'Shire Oak Jazz'. We were also delighted to welcome the one and only 'Walsall Jazz Orchestra' to our project too, and several of their members have joined in too. This great project features 15 saxophonists, 9 trumpeters, 6 trombonists, 1 baritone horn, and a 9 piece rhythm section!